Excel cash Book in the Red
When there is not enough funds in the account, in other words, when it goes into overdraft, the cash book shows the number in red as in the example here where it is -$1,961.00

Wow! I hope this business has an arranged overdraft facility with their bank!

Income Statement
Profit and Loss / Income Summary

The Profit and Loss Report is linked to all the monthly sheets.
The rows with the "Account 1" etc are the account headings and are linked to the Accounts|Headers sheet
The 0.00 amounts under the months are the totals from each monthly worksheet. The 0.00 amount means no transactions have been entered into those months for the Cash Book.
This is the same throughout the profit and loss report for each section Income, COGS and Expenses.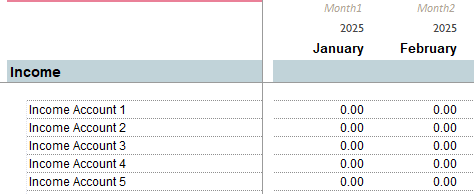 Balance Sheet
The Excel Cashbook Easy does not have a balance sheet, which helps to keep it easy.
However, you might have certain types of income or expenses that you have to record in this cashbook to keep your bank account in balance, but which need to be kept out of the profit and loss calculations, and are usually the type of transactions that go on to a Balance Sheet.
These might include personal expenses, or loans to name a few.
This easy cashbook has a section at the bottom of the P&L to help you remove these amounts from the profit calculations.