Accounts Receivable Collection
Accounts receivable collection becomes necessary when customers or clients do not pay their accounts when they fall due, and when they become overdue.

It would be nice if everyone paid their invoices on time ... but this is the real world.
Some customers are conscientious, others are not

Some are disorganized with paperwork

Some don't have the money because they:
a) didn't budget to pay your bill, or 
b) haven't themselves been paid by their customers.
However, you need to get the ball rolling and start your accounts receivable collection procedures.
Here is what this page covers:-
Contact with the customer and following up non-payments


Allowing the customer to pay the account off over several weeks / months


The formula for calculating interest
Accounts Receivable Collection Tips:
Contact the Customer
This is a five-step process for a worse case non-payment scenario.
a phone call




another phone call or two




a letter of demand




a final letter of demand




hand over to debt collection agency



Definition of debtor: A customer who owes money to your business
You could first send a copy of your overdue invoice stamped 'This Invoice is Now Overdue' and then wait it out, or you could...
... phone them for faster results:-


First Phone Call Contact
WHAT TO SAY
"Hello, this is [your name] calling from [your business], how are you?"

"I'm calling about our invoice dated [the date] which is overdue and would like to know when we can expect to receive your payment?".

A calm voice from you will prevent the customer becoming defensive. Most people will be apologetic and let you know when they expect to pay. [A few might come up with some excuse as to why they are not going to pay it; you may end up having to take this dispute to the local courts if it's a decent amount.]
If the customer gives you an expected date in the future, add a time to your calendar to check your bank on that date (or the day after) for their payment.
If payment still hasn't come through, ring them again (right away)

Second Phone Call Contact
WHAT TO SAY
"Hello, this is [your name] calling from [your business].

I'm calling about our invoice and the payment you said you'd make on [date] but it hasn't come through yet.
I am phoning to check if there is a problem? "

They will most likely give you an explanation why they haven't been able to pay and give you another date/time frame.

Check on that date and ring again.. this will make them aware that you are not going to forget about it.
Let them know interest will start accruing.
Further down this page are the details for calculating interest.
Once you have made two or three phone calls as above and the customer still hasn't paid, calculate and add the interest and send them a letter:-

First Letter
Make a note on your calendar of when you need to follow up with the second letter. So this will be 7 days after posting the first letter plus another day or two for the travel time of the letter in the post.
If payment arrives in the meantime, great!
However, if not then on that date or the day after, check your bank to make sure it wasn't paid by internet banking.
If no payment has been received, send a second letter.
Wording of first letter
"We refer to our Invoice No.[number] dated [date] and our various telephone conversations regarding your payment.
As your payment has not yet been received, interest of ##% per year amounting to $### has been added to your account.
The total now outstanding is $xxx.xx
We value your custom and would like this matter to be resolved as quickly as possible.
Please pay your account within 7 days of the date of this letter to avoid further action."

Second Letter
The wording of this letter is stricter to really push this customer into action.
There is no need to add more interest as interest is calculated on a monthly basis and this second letter is only 7 days after the last one.
wording of second letter
We refer to our letter dated [date] regarding Invoice No.[invoice no.] dated [date].

This is a reminder that your total amount owing to us is $xxx.xx
If we do not receive your payment within 7 days your account will be handed over to our debt collection agency.
Please note that this action can affect your general credit rating, and you will be liable for the debt collection fees*".

By now, your accounts receivable collection methods should have worked and the customer galvanized to pay.
If they settle the invoice in full, but not the interest, you could simply reverse the interest.
Often, it is not worth the headache trying to recover that small amount.

*Also, see Accounts Receivable Procedures. Customers will only be liable for the debt collection fees if they have signed your Terms and Conditions which state they will be liable for these fees. This is why it is an important step to get customers to open an account. If not, the debt collection fees will come out of your own pocket. Debt collection fees start with the next step.


What Next if they don't pay?
If they have still not paid, hand them over to your chosen collection agency so you can focus on the other important aspects of your business.
The debt collection agency will have a really good system in place for handling difficult customers and they usually have access to put a black mark against someone's credit rating.

Paying the Account Off
Your customer might ask if they can pay the account off over several weeks / months. If you are happy to do this then go ahead, but I recommend adding monthly interest because you are not a bank!
If they were to get a loan from their bank or any other place to pay your account they would be charged interest on the loan. Perhaps first suggest they try to get a loan from their bank before agreeing to let them pay it off.


Calculating Interest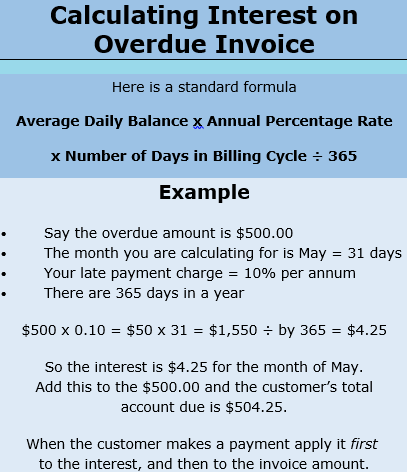 Here is a standard formula:-
Average Daily Balance x Annual Percentage Rate

x Number of Days in Billing Cycle ÷ 365


Say the overdue amount is $500.00
The month you are calculating for is May = 31 days
Your late payment charge = 10% per annum
There are 365 days in a year
$500 x 0.10 = $50 x 31 = $1,550 ÷ by 365 = $4.25
So the interest is $4.25 for the month of May. Add this to the $500.00 and the customer's total account due is $504.25.When the customer makes a payment apply it first to the interest, and then to the invoice amount.
Many people develop different methods for their accounts receivable collections (aka debt collecting) once they learn what works for them. 
After a bit of practice you will find your groove... keep trying!
Most people are apologetic and have genuine reasons for struggling to pay.