Business Invoicing Software
For billing clients and tracking expenses
This is my review of top business invoicing software FreshBooks.
what is freshBooks?
FreshBooks is secure, online software with powerful but simple billing features that can be used world-wide. 
It was developed over 10 years ago by a businessman looking for a smarter way to invoice customers after he accidentally wrote-over a customer invoice in his spread sheeting software.
FreshBooks is recommended by 97% of small business owners.
The FreshBooks software is fresh, simple and fast.
FreshBooks
Sale
Skip the free trial and get 50% off the usual price for 3 months:
US$15 Now US$7.50 per month on the Lite plan – this lets you bill up to 5 clients. Pay monthly or save 10% on one annual payment
US$25 Now US$12.50 per month on the Plus plan (the most popular plan) – lets you bill up to 50 clients and to send proposals and includes all Lite features.
US$50 Now US$25.00 per month on the Premium plan – bill up to 500 clients - includes all features from Lite and Plus plans.
Get Award-Winning Support, It's Safe and Secure, 30 Day Risk Free Guarantee
Advantages of Using FreshBooks Business Invoicing Software
This invoice estimate software enables you to generate income and keep easy bookkeeping records

It avoids you getting bogged down trying to learn complicated accounting stuff

You can focus on serving and charging your customers

You can keep easy track of all your expenses and customer payments

All your data is online so you can access it from anywhere

Use FreshBooks on the go with their mobile app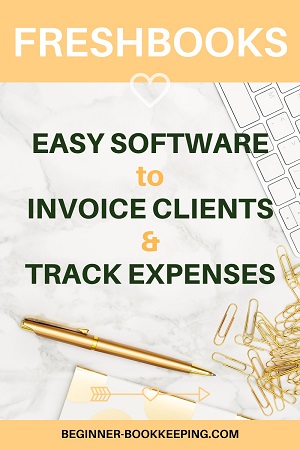 the best feature of this business invoicing software
FreshBooks is perfect for helping you with customer billing and sales invoice tracking, after all this is where your potential income and survival is at!
This feature makes it ridiculously easy for you to prepare sales invoices and stay on top of customer payments, and free up your time to do what you need and love to do.

Disadvantages of using freshBooks
You will not consider these a disadvantage if your focus is on getting easy-to-use top invoicing software…
There are several features in other bookkeeping programs that you will not find in FreshBooks business invoicing software (see important update* below). They are:-
A Cashbook
Balance sheet accounts or a balance sheet report
The ability to track periodic inventory
Also, customer payments do not automatically import to FreshBooks. You must check your bank account and manually apply the payments received against the sales invoices in FreshBooks.

*Important Update: March 2019 - FreshBooks announced that they are now introducing these double-entry features: the cost of goods sold; a general ledger, balance sheet, and chart of accounts; "other income" received outside of invoices from FreshBooks, a trial balance to help users find errors, bank reconciliation and accountant access. Read more about it here.
who is freshBooks for?
FreshBooks business invoicing software is best for:- 
self-employed people, with or without employed staff

in service based industries

who want to control their invoicing procedures, and

who want quick access to expense reports.
It can be used by small business owners world-wide because there is a sales tax feature.
who is freshBooks NOT For?
Update March 2019: With the new double-entry additions that have been introduced by FreshBooks this software will be great for most small businesses except for Accounts Payable (tracking unpaid bills) and in-depth inventory records.
What can you do in freshbooks

Here is a list of most things you can do in this business invoicing software:
1. Sales Tax
You can include sales tax on all expense and income transactions.

You can view a nifty sales tax summary report that displays the tax information you need to complete your sales tax return to your government.
One negative point I see is that sales tax is not calculated automatically by FreshBooks. 
The sales tax on every expense or income transaction has to be manually calculated by you with a calculator and then entered against the transactions. 

2. Estimates
Email to your clients estimates or proposals of work, listing the services you will provide and their cost.

3. Connect your bank
Connect your bank accounts to FreshBooks business invoicing software to automatically import all expenses.
Note: this does not give FreshBooks access to your bank account to make payments or transfer money – all it can do is import expense transactions from the bank statement.

4. track Expenses
Assign your expenses into categories which are already in the system

The system lets you create new expense categories

At the time of assigning each expense you can tick them as billable if they need to be invoiced to a customer

Edit expenses when required.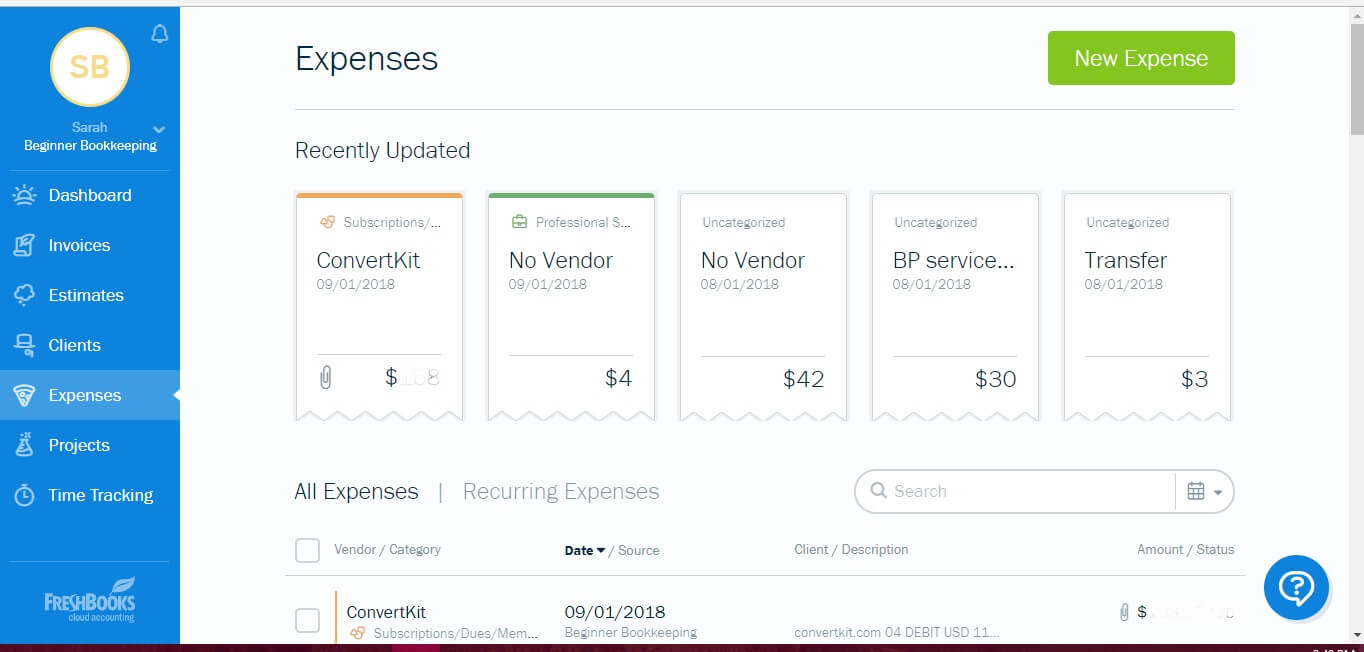 Screenshot of Expenses Feature
5. Add images of receipts
There is an option within each expense transaction to add an image of the receipt.
Snap a photo of it with your phone or scan it in to your computer, and then drag or find the image file to add.
If it is a PDF it will display the PDF logo or if it is a shop receipt it will display that.
It is easy to delete if you find you have attached the wrong image. 
This feature is great for three reasons:- 
You will have proof of purchase for tax purposes

You've got a document backup if there is a dispute with a customer

If you use an accountant, they will easily be able to check the document (this is handy when, for example, your accountant needs to decide if a purchase should be an asset instead of an expense)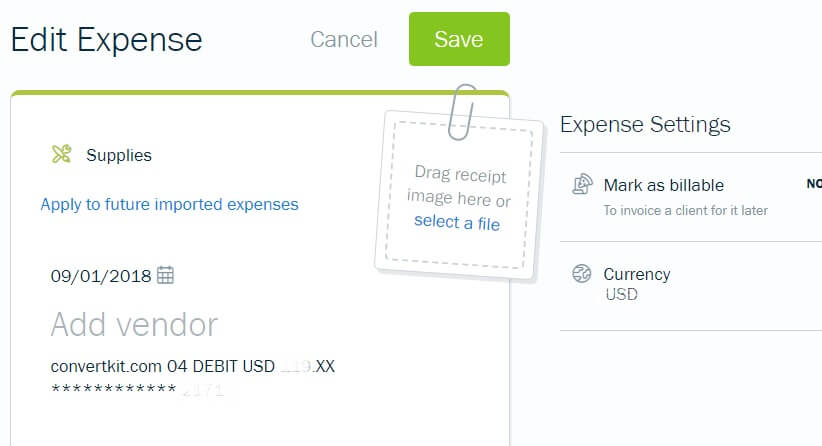 FreshBooks Business Invoicing Software : Edit Expenses Screenshot
6. client database
Maintain a database of client details which includes contact information and the current balance owed to you by them.

7. track time working
Start a timer

Assign the client (project, service) to the timer

Work, work, work and whistle while you work…

End the timer

This recorded time will be available to select when you go to bill your client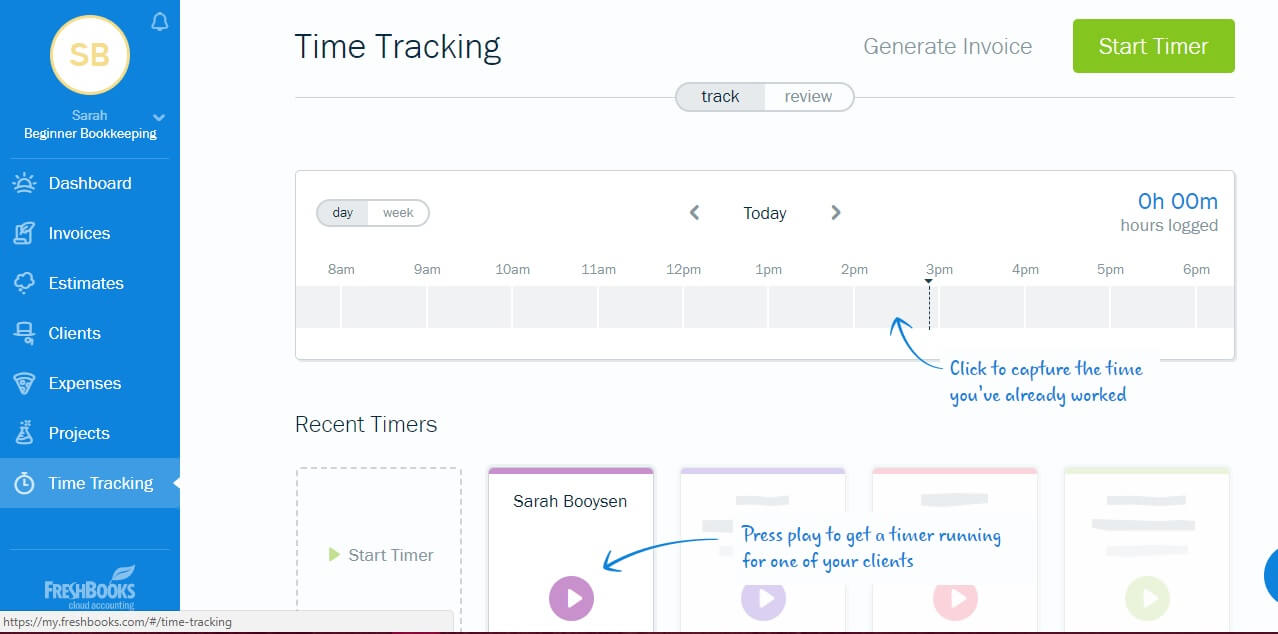 Track Time Working Screenshot
8. Invoice | Bill Your Clients
Customize your invoice template

Create your invoices and include the time from above, any extra time that wasn't timed, any expenses you had to pay for on their behalf, and any items that you provided, add sales tax if applicable

Email the invoices to the client

Give them payment options including credit card

Automatically send reminders to the clients to pay their invoices

Automatically add late fees onto overdue invoices

9. track invoices
Easily track how much your clients owe you so you can start chasing in the over-due payments.

10. easy payments collection
The reports make it easy for you to see at a glance who still owes you money.
The App integration (more on this below) means you can use something like CollBox to automatically identify overdue payments and pair that debt with the best collection agency – all you must do is approve them – and then get on with your customer service while they collect your money.

11. Invite Employees and contractors
Give your employees access to your FreshBooks business invoicing software so they can track their time

Give access to an admin person that helps you with the billing

Give access to your contractors to collaborate on projects and send you invoices.

12. Access Advanced Reports
Check how much your clients owe you

View a sales tax summary

Check what invoices are outstanding in payment

Get a full list of all invoices ever sent

View an expense report on all expenses not just customer ones

Track all the time entries that have been made

Get a quick idea of all customer payments that have been collected.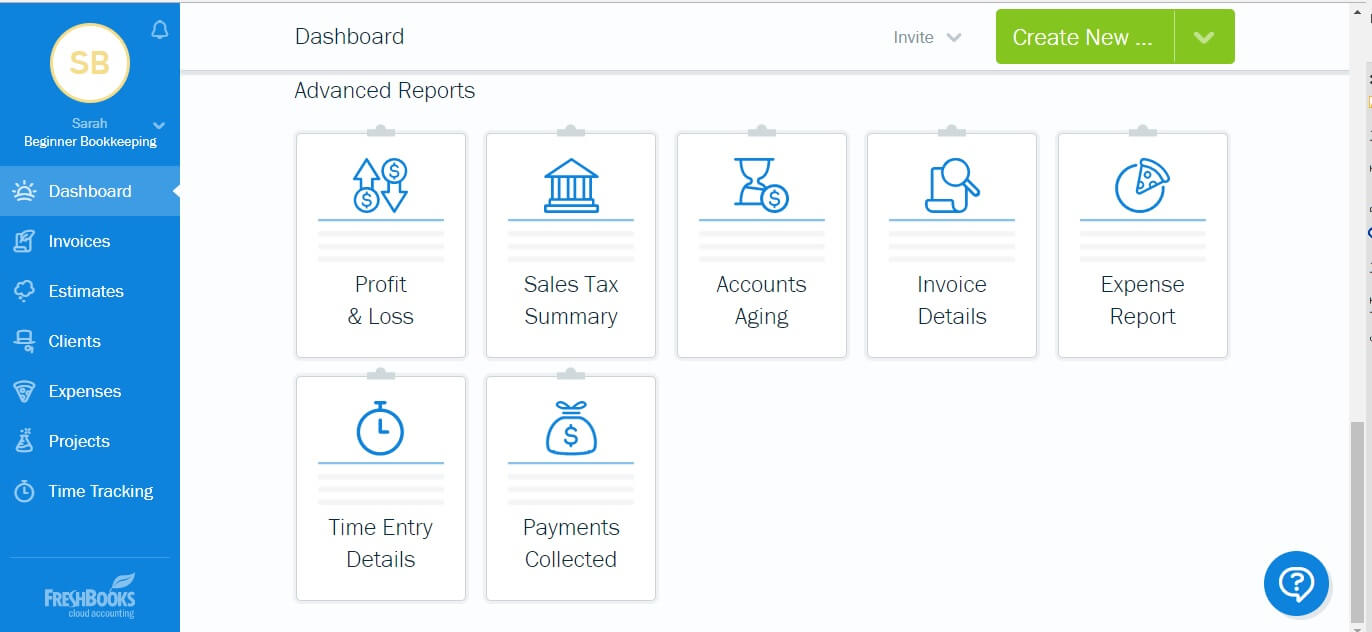 Advanced Reports Menu Screenshot

13. connect apps
You can integrate outside Apps into FreshBooks business invoicing software to provide you a more rounded experience like:
Bench (professional bookkeepers) 
Gusto Payroll
Zapier apps
Stripe (if you haven't heard of Stripe, it is similar to Paypal) 
Form Builder 
CollBox (easy debt collection) 
Shopify 
and a whole lot of others.
Check out all the Apps available here. 

14. connect multiple businesses
If you run more than one business, you can connect them to the one Login for easy access, but you will pay a separate fee to FreshBooks business invoicing software for each business.

15. wages information
Wages information can be automatically imported and assigned to an expense categorization using an App integration (like Gusto) so that you have all your expenses in the right place on the Profit and Loss report.

16. Mobile app
There is a mobile App so you can access FreshBooks business invoicing software wherever you are:
Create your invoices on the go

Immediately capture photos of your client lunch receipts 

Reply to client's questions from the app when you are out and about 

Know straight away when a client has viewed their invoice (they cannot say "I never got your invoice"!)

Your data syncs with all your devices

17. customer support


You can email or phone FreshBooks business invoicing software with your questions, and from my experience they are very fast to reply.
There is a handy little blue circle on every page within FreshBooks providing a fast link to enter a keyword relating to your question to search their database, or you can go to the 'Need Help' link on the menu options for other help options like email or phone support.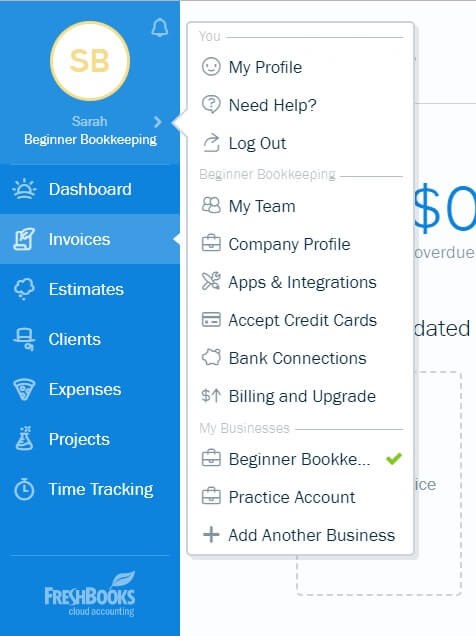 Menu Options Screenshot

what you cannot do in freshBooks
You cannot automatically import customer payments received in to your bank account. You must enter these manually against the sales invoices in FreshBooks (check your bank and update FreshBooks business invoicing software every morning – especially if you use Collbox).

You cannot track your business bills and payables

You cannot process payroll

You cannot track inventory stock items 

You cannot download the software to your computer – it is a Saas system (online Software as a Service available over the internet) on which you pay a monthly subscription fee

What i love about freshBooks Business Invoicing Software
I love the display layout and simple navigation through the system 

I love how easy it is to prepare new invoices and quickly see how much is overdue or outstanding (either by invoice number or by client name)

I love that a small business owner can zone in on everything related to clients and not be worried about full accounting practices

I love how easy it is to attach images of receipts to all the expenses in the little photo frame icon within each transaction

I love the quick view expense report which groups them into their assigned categories and gives you a total of each.


what i do not love
Keep in mind that I am a Professional Bookkeeper so these things will not bother a small business owner who wants to keep their accounting simple and who can use a bookkeeper or other software to do these things:-
the freshBooks profit & loss report
Whilst the Profit and Loss report in FreshBooks business invoicing software can help you see if your money is in the black i.e. bringing enough income in to cover all the expenses you pay for out of the bank and leave you with a profit, there will sometimes be expenses that should not be on a P&L but should be on a Balance Sheet.

Here are some examples:
personal expenses paid for with business money

asset purchases (but you can claim depreciation on assets)
loan repayments

tax payments  

why is this important?
The above-mentioned expenses are not tax deductible.

Tax is calculated on the final profit, which is calculated within the P&L.
Leaving these expenses on the P&L decreases your profit meaning you pay less tax, but if it is ever found out that you have included non-deductible expenses you will suffer penalties by the government.
Moving these expenses to the Balance Sheet* avoids this problem.
Update: As of March 2019 FreshBooks introduced a Balance Sheet so you will be able to use this to track non P&L type expenses. 
bank reconciliations and freshbooks
why is a bank reconciliation important?
A monthly bank reconciliation will uncover missing income or expenses.
Wouldn't it be awful if several months down the track you discover a missing billable expense transaction and now it's too late to charge the customer and you've lost out on income?
Or what about income that has not been included on the P&L and is not declared on your tax return thus meaning you pay less tax; you will pay penalties by the government for not declaring income and paying tax on it. 
Use the reconciliation feature at least once a month.
conclusion on using freshBooks business invoicing software
With FreshBooks you won't spend abundant time learning accounting just to bill your clients or keep your eye on expenses.
And you won't be stuck using Microsoft Word or Excel to produce and track invoices.
FreshBooks' main goal is providing easy accounting software for billing clients and tracking expenses.

This is good news if you are a non-accountant, small business owner because you can skip the complicated accounting, but it is there if you want it.