t ledger Opening Balances

All asset, liability and equity accounts will have an opening balance at the beginning of a new financial year.
These balances are the closing balances brought forward from the previous financial year.
The balances in the asset accounts are usually debits.
The liabilities and equity balances are usually credits.
In the above ledger illustration, the bank ledger has an opening balance of $1,050.00.
This means that at the end of the previous financial year this business had that much money in their bank account.
The revenue and expenses accounts are always cleared at the end of a financial year so they start the new year with a zero balance.
Now, say if Mr Jones used the same check/cheque to buy several different items such as:
$15.00 for paper 

$200.00 for a printer and 
$28.00 for a book for personal use

What would the debits and credits look like? See below.
t ledger example for Expense purchases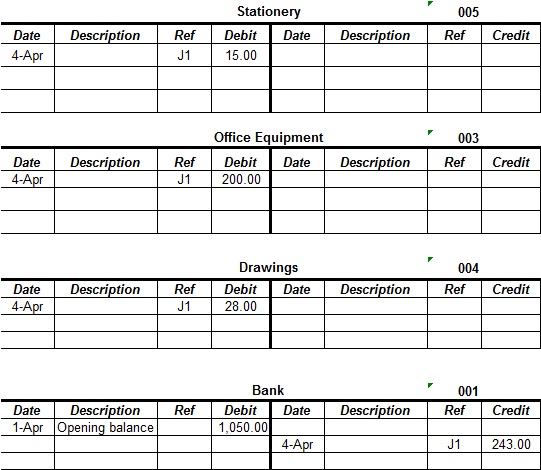 The stationery ledger is being increased which adds to the overall total of business expenses.


The office equipment ledger is being increased which adds to the value of the assets.


The drawings ledger is being decreased because drawings reduces how much equity (capital) the owner has in the business.


The bank account is being decreased because, obviously, the money has been spent!
Note that the debits of the first three ledgers add up to the total credit in the bank ledger.
There is no need to split the credits out.
Go here to learn more about bookkeeping ledgers.