3. Express Accounts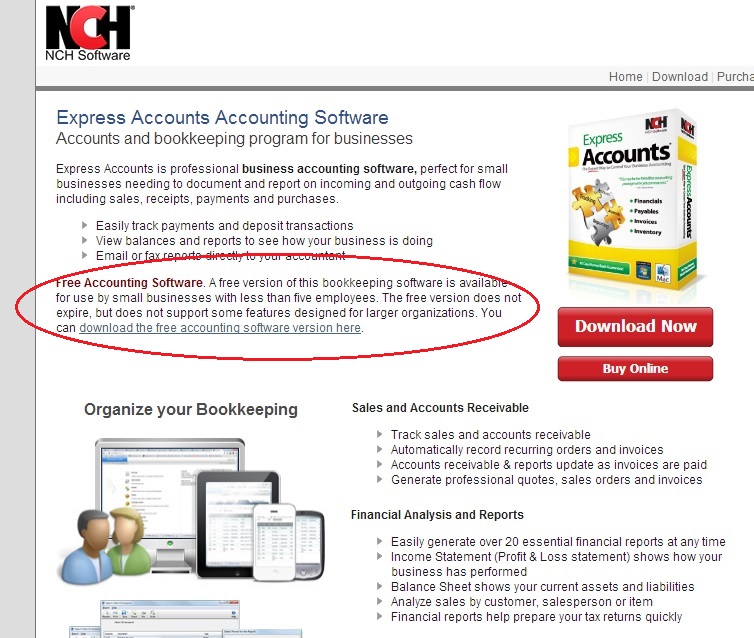 Bookkeeping Software Free NCH Express Accounts
The third of our recommended bookkeeping software free downloads is Express Accounts. 
It is compatible with Windows 10, XP, Vista, 7, 8 and 8.1, on 64 bit Windows, Mac OS X 10.5 or above.
What you get with Express Accounts
Cash book – enter payments and receipts.


Bank reconciliation – import a CEV download of your bank statement for automated matching of transactions (payments and receipts). Produce a report.


Make journal entries.


Chart of accounts that you can streamline to your business.


Ability to create customer cards, sales invoices, and monitoring of payments.


Inventory items that can be included on sales invoices.


A whole range of reports including income statement, balance sheet, cash flow, receivables, trial balance… and a lot more.


The option to include sales tax (GST, VAT etc) at the percentage rate you chose.


Online help


The option to upgrade (at a cost) to a more advanced bookkeeping suite.
Click on the graphic below which will take you to the NCH homepage containing the bookkeeping software free download link – as seen in the graphic.
Go to NCH Express Accounts Software
Click on 'download the free accounting software version here' and it will download the set up assistant for placing this software onto your computer. 
Once you are setup and ready to go, enter the program by clicking on the icon on your desktop which should like something like this:

If you cannot find the icon you may need to add it to your desktop by searching for it in your computer's list of programs for NCH Software, right clicking on Express Accounts, selecting 'Send to..'  and choosing 'Desktop (shortcut).
When you are in Express Accounts a message might come up asking you to certify that you have less than five employees. Click on this.
If you have more than five employees, click on the box for the commercial license. This prompt might only show up after you have been using it the program a short while.
To learn how to use the software you can access the help guide by clicking on the question mark on the top right – see red circle on graphic below.
Bookkeeping Software Free Express Accounts Home Page