Bookkeeping Software 
Free to Use
Here are several different makes of bookkeeping software free for anyone to use. 

These are genuinely free products, not those annoying 'free trial period' ones, but free for as long as your small business requires it, or if you are a student wanting to practice your bookkeeping skills. 
These companies can provide their bookkeeping software free because they make their money with upgrade add-ons or personalized services and so on.
I have been using expensive and advanced bookkeeping software for many years and these free ones compare very well.
Bookkeeping software Free to Use - list


1. Wave Accounting
Bookkeeping Software Free Wave
As of 30 November 2020 Wave is Only Available for Businesses inside the USA and Canada.
This one is an online program so will be compatible with any computer system with an internet browser.
Wave Accounting is a great accounting program for small businesses who offer services of some sort, or who sell products but don't need to track inventory, or can track inventory in another program.
What you get with Wave

Connect your bank account to Wave and have your transactions uploaded automatically at the press of a button; you still have to allocate each transaction to the relevant income or expense account but this process is the same as what you have to do with QuickBooks or Xero.

You can access Wave from your smartphone.

The Dashboard displays your Bank Account balances (where you click on Update Now to get the new transactions from your bank), A Financial Snapshot showing a chart of Income vs Expenses, Setting Tips, a summary of bills you owe and what's owed to you, a summary of your Net Income, and a colorful wheel chart comparing business expenses.

There are several sales invoice designs to choose from. You can use different currencies.

If you go shopping you can automatically upload a copy of your receipt to Wave Accounting with your smartphone, or scan and email it to your Wave account.

Track sales tax.

Customize your list of accounts.

View and print/pdf a range of important financial reports such as Income Statement and Balance Sheet.

Payroll is available but only for North America and you have to pay to use it.

They have a Wave University so you can learn for free how to use this program.

There are so many great features that you need to go and check it out yourself!
Cons

You can do basic inventory tracking but will have to do journals as a work around. If you are looking for intensive inventory tracking, this is not the right program for you. At the time of writing this article, Xero is the same - only offering basic products - but Xero allows other inventory intensive software programs to connect to Xero to push the right financial details through.

Go to Wave Accounting for Small Business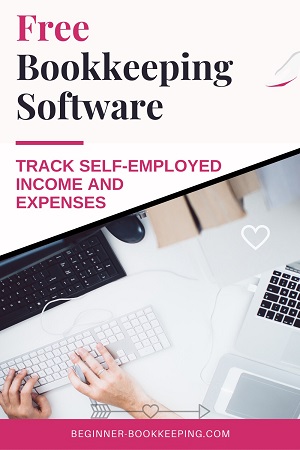 2. Manager

Bookkeeping Software Free Manager
Manager.
Manager has a desktop version and a cloud version. The desktop version is free, the cloud version is on subscription basis. Here is a comparison. If you only need one user and don't need to access it when away from your computer, then the desktop version is a great choice - it has everything you need.
Manager is an open source software and is designed to allow users to be up and running within minutes of download. 
It is compatible with Windows, Mac and Linux.
Unlike most traditional software brands, there is no need to spend hours configuring Manager and entering opening balances, setting up the chart of accounts and financial year dates before being able to use it.

It's simple, fast and easy to use.
What you get with Manager Desktop version
The main screen shows a

summary of how the business is doing by displaying the bank balances, receivables due, and a profit and loss breakdown with income and expenses listed.


The ability to produce customized

sales invoices

and keep a list of

client contacts.


Keep a record of

bills and supplier contacts

as well as

accounts payable

due

.


You can process

journal entries

to adjust your accounts

.

Reconcile the bank accounts.

Inventory recording.


Produce these main

reports: balance sheet, trial balance, profit and loss and aged receivables.


Add any number of

plug-ins to increase what you can do in Manager including sales tax compliance - Manager has a list for various countries.


There is a

forum

where you can get help.



Who needs to spend a fortune on traditional accounting programs when you can get bookkeeping software for free in a fantastic program like Manager! Just click on the graphic below which will take you to Manager's download page... all free!
Go to Manager for Small Business
3. Pandle - 
New

Pandle Free Bookkeeping Software
Pandle is fairly new software and is developed in the United Kingdom but can also be used internationally and has sales tax features which updates to your country of choice.
At the time of writing this blurb, Pandle comes with two plans:
Forever Free
Pro Version - USD$7 per month
What You Get With Pandle
As this article is about free software, I will focus on Pandle's free version for one company.
This is online software so you can access it wherever you have internet, or with the mobile app (iOS or Android)
Your data is securely encrypted, live chat support is available, plus you get help with transferring your data to Pandle so you don't have to freak out if you are nervous of making a big move.
You can import your bank statements (bank feeds are only available in the Pro version).
You can accept payments from customers with Pandle Pay.
You can create sales quotes and invoices with your logo.
If you deal with multiple currencies this is available in the free version.
You get unlimited customers, suppliers and bank accounts (but unlimited Users of your Company is only available in Pro)
If you're in the UK you get VAT submissions - it is UK VAT ready.
Business reports including Profit and Loss, Balance Sheet, Trial Balance Cash Flow, Receivables and Payables.
These features are not available in the free version:
Bank feeds, receipt uploads, projects, cash flow forecasting, stock control.
You can check out Pandle for yourself. Any features that are only available in the paid version have a small blue box with the word "Pro", so you know exactly what is available in the free version.
Go to Pandle Bookkeeping Software
4. Express Accounts
Bookkeeping Software Free NCH Express Accounts
The free bookkeeping software is Express Accounts. It is only available free now for non-commercial home use.
It is compatible with Windows 10, XP, Vista, 7, 8 and 8.1, on 64 bit Windows, Mac OS X 10.5 or above.
What you get with Express Accounts
Cash book – enter payments and receipts.

Bank reconciliation – import a CEV download of your bank statement for automated matching of transactions (payments and receipts). Produce a report.

Make journal entries.

Chart of accounts that you can streamline to your business.

Ability to create customer cards, sales invoices, and monitoring of payments.

Inventory items that can be included on sales invoices.

A whole range of reports including income statement, balance sheet, cash flow, receivables, trial balance… and a lot more.

The option to include sales tax (GST, VAT etc) at the percentage rate you chose.

Online help

The option to upgrade (at a cost) to a more advanced bookkeeping suite.
Click on the graphic below which will take you to the NCH homepage containing the bookkeeping software free download link – as seen in the graphic.
Go to NCH Express Accounts Software
Click on 'download the free accounting software version here' and it will download the set up assistant for placing this software onto your computer. 
Once you are setup and ready to go, enter the program by clicking on the icon on your desktop which should like something like this:

If you cannot find the icon you may need to add it to your desktop by searching for it in your computer's list of programs for NCH Software, right clicking on Express Accounts, selecting 'Send to..'  and choosing 'Desktop (shortcut).
When you are in Express Accounts a message might come up asking you to certify that you have less than five employees. Click on this.
If you have more than five employees, click on the box for the commercial license. This prompt might only show up after you have been using it the program a short while.
To learn how to use the software you can access the help guide by clicking on the question mark on the top right – see red circle on graphic below.
Bookkeeping Software Free Express Accounts Home Page
5. Bokio for UK Businesses

Bokio Bookkeeping software is for small businesses in the United Kingdom.
Their software is compliant with Making Tax Digital and it's mobile friendly. 
Creating a user account is fast and easy.

What You Get with Bokio Accounting
After signing-up for your free account you will be emailed a downloadable handbook called Introduction to Accounting in Bokio which explains how to get started with your bookkeeping and all the things that come with it such as double-entry bookkeeping, chart of accounts and much, much more.

You can access a Help center from your user account and you can contact Bokio directly for help.

You can track VAT if you are registered and use the software to file your digital tax return.

Create and send invoices to customers with a few clicks and receive notifications for overdue invoices. They can be sent by email or downloaded as a PDF. You can also manage credit invoices.

Enter and track bills from suppliers so that you are never late again to pay (so long as you have the funds in your bank account!)

Scan and Upload receipts from your phone so you always have a copy of your receipt within the system (rather than have them floating around in your bag!).

You can see and manage all the ledgers which is specifically helpful for reconciling your bank account ledger (make sure it balances with your actual bank account).

See important business reports such as the Profit and Loss and Balance Sheet.

A to-do list is auto updated to help you keep on track with payments.

Give access to your Accountant or employees.
The above features are all completely free but for £10 a month you can get priority support.
What You Don't Get with Bokio
They do not provide a live feed from your bank account so transactions will not be automatically added to your bookkeeping records. 
There is no payroll feature. 
You cannot keep a fixed asset register or multi-currency bank accounts.
VAT cannot be filed without Making Tax Digital.
Bokio are continuously working behind the scenes and you can be added to their email list to be notified when any new features are integrated.
An interesting alternative to Bokio is the free accounting software called QuickFile. It is MTD compatible, has bank feeds, sales invoicing, rich reports and much more.
6. Ledger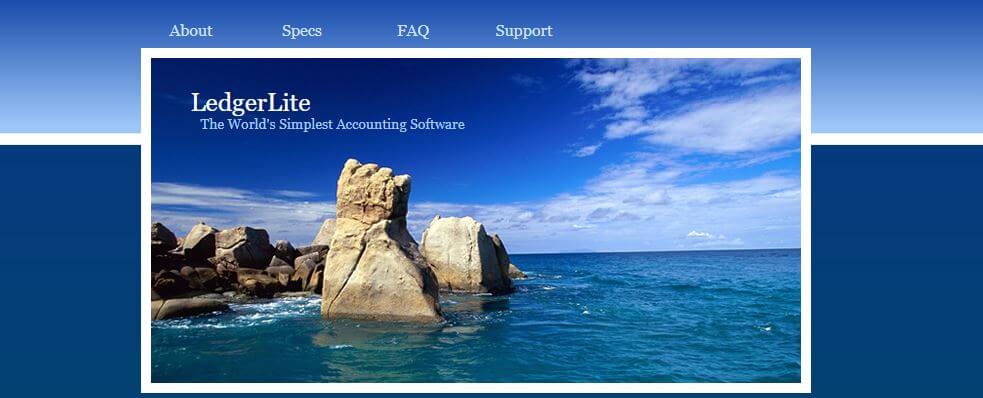 Bookkeeping Software LedgerLite
"Although the program is very easy to download and use by students it is by no means just a learning tool. It is being used seriously by hundreds of clubs, trusts, and businesses of all sizes around the world to maintain their general ledger accounts". LedgerLite

**Update** - Ledger has now changed to LedgerLite. You can still download the software immediately, and use it as an unregistered user for 30 days, and then pay a $50 one-time fee, no more charges after that, the ongoing cost is free.

This program is fantastic for learning double-entry bookkeeping because you have to manually enter both sides of each entry.
LedgerLite is compatible with all versions of Windows including Windows emulators for the Mac.
It is a very good, simple and unique program for small businesses and for students wanting to practice entering debits and credits. You can upgrade to LedgerPlus for invoicing, stock control, customer accounts.
What you get with LedgerLite
A cashbook: where you enter the transactions off your bank statement.

Chart of Accounts: that you can change to suit your business.

Entries: a second way you can enter transactions showing on your bank statement, or for journaling entries from one account to another if you have made a mistake.

A ledger: that lays out the detail of each account that you have made entries to

Income statement report: showing if the business has made a profit or a loss

Balance sheet: showing the worth of the business.

Cash flow statement: showing the

flow of cash

in and out of the business



Online help and support

The option to unlock, for a small fee, some of the locked features such as a ledger listing, trial balance and other. A new, small business can get by without these options – it is not necessary to unlock them.

The option to upgrade, for a price, to LedgerPlus which has everything a business can use from sales invoicing, accounts receivable and payable, stock control, asset schedule, depreciation etc.
You will see the download icon on their home page – just click on it to install the software to your computer's hard drive.