Free Excel Tutorial #2


Excel Remove Delete Rows and fix Formula Error #ref! (hash ref)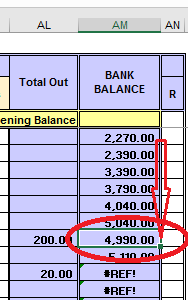 Delete a Row

Move your cursor to the left margin
hover over the number of the row you want to delete so that the black, right-facing arrow pops up
right click your mouse and select Delete.
Delete Several Rows

To delete say three rows, once again move your cursor to the left margin
hover until the black arrow appears (usually a split second),
press the left mouse down and hold it down,
drag down three rows, let go of the left button and click the right mouse button.
Select Delete.
Amending #Ref! (hash ref) Symbol
This usually appears in cells with formulas which are missing the information that was previously on the spreadsheet. In this case, because rows have been deleted, the 'link' to those deleted cells is broken so the formula is unable to complete its calculations.
To correct this, we need to simply copy and paste a working formula from a cell that has one, usually a cell above where the rows were deleted.
Go to the bottom right corner of the working cell

hover over the small square in the corner until you get a small black cross 

click the left mouse button, hold it down and drag all the way down the cells that have the #Ref! symbol. 

This replaces the broken formula