Income and expenses
Having a loss to avoid paying taxes might sound appealing but it's not so good for the financial well being of the business.
Income
The income on the profit and loss report includes money derived from:
the sale of services
the sale of products
or funds from other income such as interest earned on savings at the bank
Expenses
The profit and loss statement shows only deductible expenses.
Deductible expenses (overheads) are those expenses that your tax department has approved the use of to reduce the net profit.
The amount of tax your business pays is calculated on the net profit.
The higher the profit, the higher the tax.
Non Deductible expenses are not included on your profit and loss.
They are instead shown on the balance sheet and include things like:
loan repayments
inventory
tax
owner's drawings
investments
Here is an example profit and loss report showing the Gross and Net losses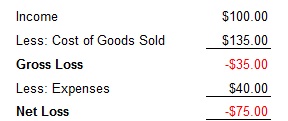 If the report shows a gross loss as in the example above, this means there is not enough money to cover the overheads of the business and that the following could have occurred:-
The mark up on the sales price is too low
There are too many discounts being given to customers
Not all direct costs have been on-charged to the customer as they should have been
A review of the systems in place will be necessary to correct these problems and save the business from financial ruin.