How To Do Bank Reconciliations
Where to do them
Options on where to do them:
Enter a reconciliation summary underneath the relevant month in the cashbook spreadsheet, or


Prepare a bank reconciliation form on another sheet of paper, or


Invest in bookkeeping software that has reconciliation capabilities.

If you are keeping a manual cashbook you need to check off each cashbook entry against each bank statement entry.

You can put a small tick on the bank statement next to the entry and put a tick or an 'R' for reconciled in the *cashbook next to the relevant entry.
If there are extra entries in the cashbook that do not show up on the bank statement, or vice versa, you need to highlight or circle them so that you can adjust the cashbook once you find out what they are.
*This article mentions 'cashbook', however, if you are using accounting software they might not call it 'cashbook'. Instead, they might title it 'Transactions' or 'Banking'.
things that require adjustment
Outstanding checks/withdrawals* - these are checks that your business has entered into the cashbook and sent to vendors but which did not show up at the bank by the closing date of your bank statement.
Outstanding deposits/receipts** - these are payments that you have received into the cashbook, but which were not deposited to your bank before the bank statement closing date.
Bank Fees and Interest - these are charges that you would normally only know about after receiving your bank statement. You will need to enter these into the cashbook.
Other Unidentified Entries - if there are any other entries missing from either document then you will need to investigate how they got there and make the necessary adjustments.


* Outstanding checks/withdrawals will be added to the reconciliation
** Outstanding deposits/receipts will be deducted from the reconciliation


If the bank account is in overdraft, then do it the other way around.



Two Steps to balancing cashbook to bank statement
Here is a screenshot from our Bank Reconciliation Exercises and Answers tutorial which explains how to know when to adjust the Cashbook versus when to complete a Bank Reconciliation Worksheet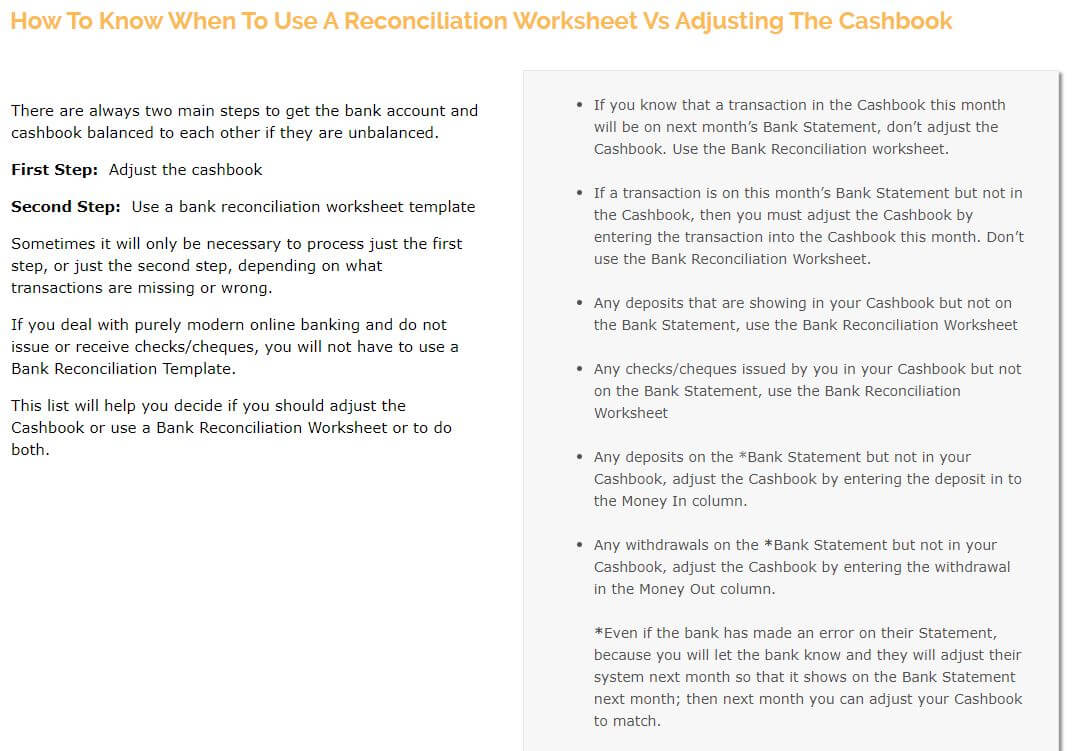 Reconciliation in the cashbook | spreadsheet
Here is an example of a reconciliation work section underneath a cashbook spreadsheet for one month.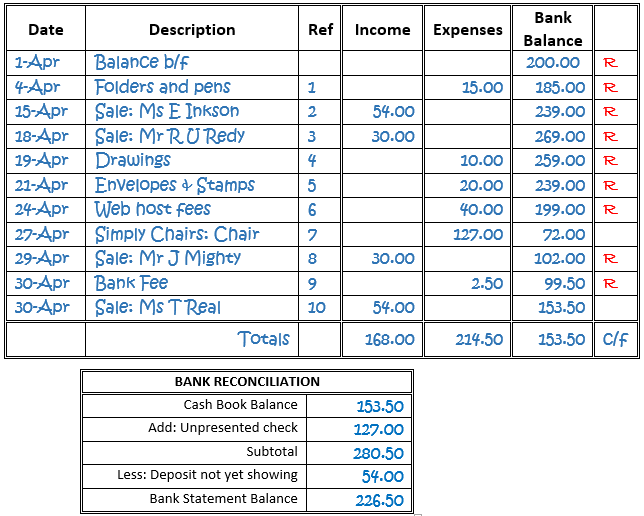 Bank Reconciliation Form
If you don't want to enter the reconciliation into the cashbook, you can use a form instead, like the completed example below. 
Example Cashbook and Reconciliation Worksheet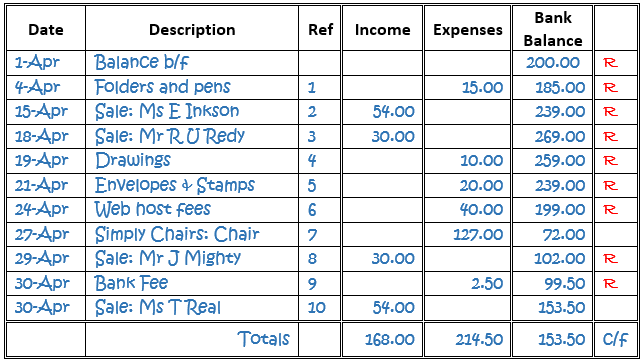 Simple Cashbook Example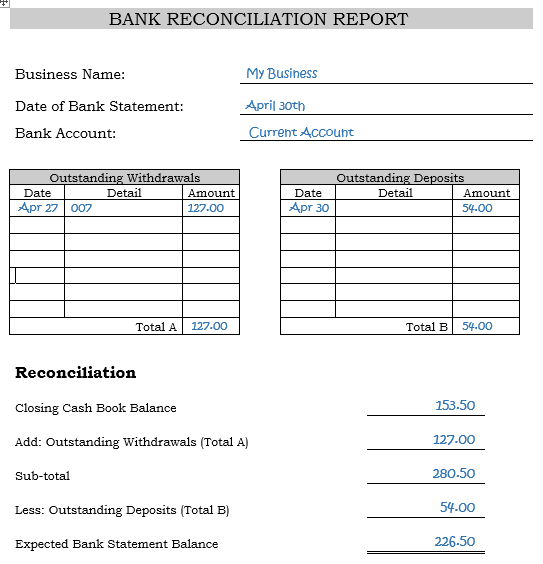 Simple Bank Reconciliation Form Example