Accrual vs cash reporting
Accrual reports display expenses at the date of purchase whether paid immediately or not paid at all.
Cash reports show expenses at the date of payment and only the paid ones.
Let's see what this looks like.
Below is a list of expenses by a small business for the month of April.
The Date of Purchase column shows the date each expense was purchased. In some cases a bill has been issued which is entered into the bookkeeping system at the date on the invoice. These are marked as an Accrued type of expense.
The Date of Payment column shows the date the expense was paid for. Some of the expenses were paid with cash at the time of purchase, so the payment date is the same as the purchase date. These are marked as a Cash type of expense.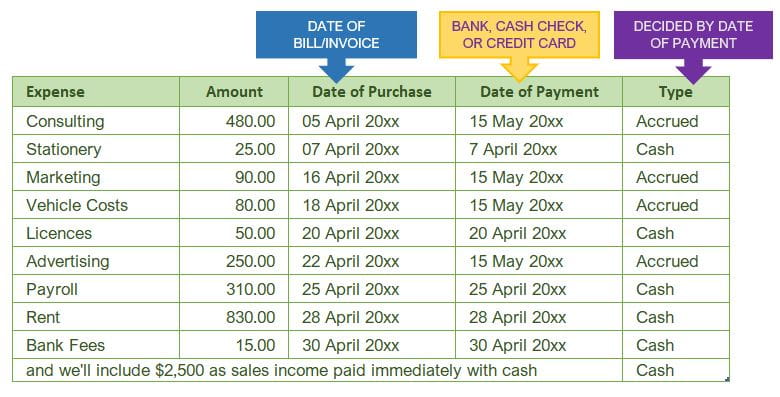 Here are two reports using the expenses above. The first one is an accrued profit and loss report and the second one is a cash profit and loss report.
The accrual P&L shows both accrued and cash expenses because it reports on all expenses for the month paid or unpaid.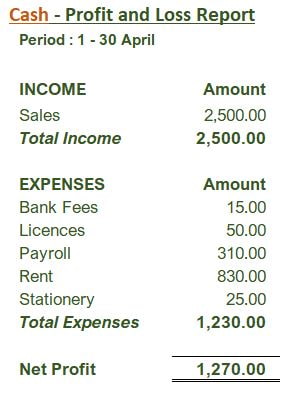 The cash P&L leaves out the Accrued expenses because they have not been paid and the cash report only shows paid expenses.
What reporting should a small business owner use for tax purposes
Tax payable is calculated on the net profit result of the trading results of a small business.
Business owners have to decide which reporting method (cash or accrual) to use for tax purposes and then stick with that. 
Chrom.com gives an explanation on the advantages and disadvantages of both types of reporting. If you are still not sure which method to use, ask your local professional bookkeeper or tax accountant.
In many countries the tax department has restrictions on using the cash method.
If you use the accrual method, you will pay tax on your sales income for which you have not yet received payment, but that should be balanced out with the Expenses that you have not paid yet.