Free Printable Receipt
These free printable receipts are available in Excel and PDF format. They can be used for any type of cash payment.
Free Printable Receipt Examples
Here are examples of a receipt. One has been completed in a standard type font and one has been completed in a font similar to handwriting. These samples give you an idea of how they will look when prepared.
Shaded Receipt – this is a very smart, official looking receipt and is perfect for business use

Lined Receipt – this one has the same layout but uses less printer ink as there is no shading in it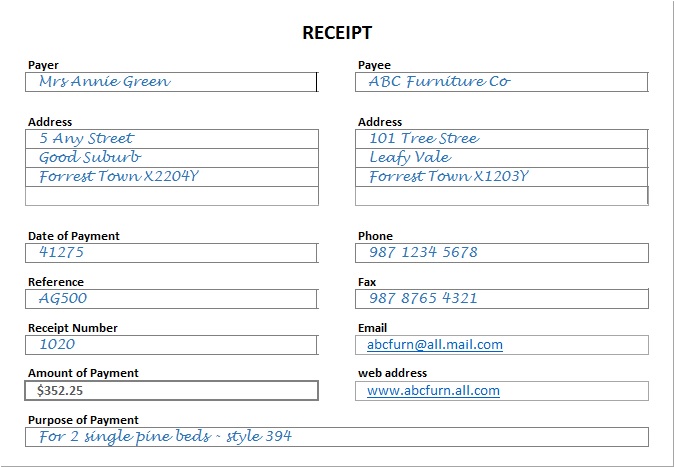 Free Excel Receipt
The excel workbook comes as one download and contains both of the above receipts in two different tabs… (see graphic to the right) so you don't have to do two downloads.
This workbook is saved as template type document so you won't be able to change the original, but if you click on 'File' then 'Save As' you will be able to save it to your computer into a document that is changeable.

This excel template consists of boxes or fields in which you type the detail for your specific transaction.
For example, the first field is headed 'Payer' and has the instruction 'Name of person/business paying the money' - see the graphic below.
Direct your mouse pointer over the instruction field and click.
This action selects the field and allows you to type the name of the payer (person or business who paid the cash).
As you start typing, the instruction is automatically deleted so you don't have to delete it first and then start typing.
If you want to print the receipt with the detail fields blank for hand writing on, you can simply direct you mouse pointer over the fields and click and press delete on your keyboard which will remove the details.

You will need to do this individually with each field on the page.
The great thing with the excel download is you can customize the receipt, changing anything you want – the headers, the boxes the shading – turning it into a unique document to your business.
You can enter your name and other details and then save it as a template so that you don't have to keep re-entering this information each time you open the document. 
One of our other receipts, the rent receipt template uses the exact same layout but with the wording geared towards tenants and rental properties.
If you don't use Excel and would rather print out blank forms for writing on, then you can download the PDFs (below) which are already blank..
These PDF's have slightly larger fields (vertically) so that your writing does not have to be tiny to fit! Click on the images below which will open up a PDF document for you to save to your computer.
Free Printable Receipt - PDF Downloads
Click on the image of the receipt you want to download, and the download will automatically begin.
Shaded Receipt Form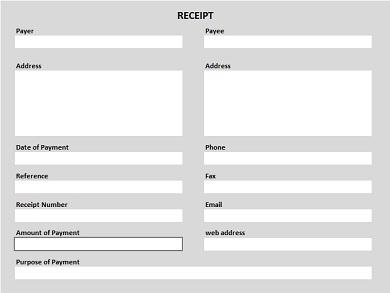 Lined Receipt Form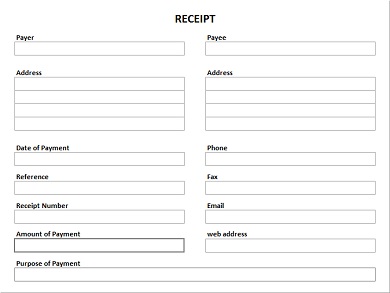 Rent Receipt Form