Starting a Bookkeeping Business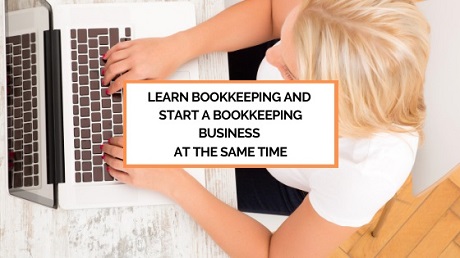 Starting a bookkeeping business whilst learning bookkeeping skills is possible through the amazing course developed by CPA Ben Robinson of Bookkeepers.Com.
You can start a virtual, 21st century business that will allow you to live your dream life. No previous bookkeeping experience is required.

This course is a proven and comprehensive course that will take you by the hand and teach you step by step all the skills and knowledge you need:-

to do bookkeeping 

to start a bookkeeping business and

to prosper in it
...and as Ben says, to become a 21st Century Bookkeeper.
You will also become part of an incredible support system so that you are not alone on this new and exciting journey...
A virtual bookkeeping business is high profit, low cost
International Students Can Do This Course
Even though this course has been developed in the USA it has been designed to work internationally because bookkeeping is a universal 'language', you just need to check the laws in your country regarding business licensing and tax regulations*.
. .There are students from 33 countries signed up and doing this course from places like Canada, United Kingdom, Australia, New Zealand and more.
*How to check your laws and be compliant: join your country's online Bookkeeper's Institute, explore your tax department's website and sign up for their newsletters and webinars, contact your local business chamber, or search online for business support networks specific to your country.
Starting a Bookkeeping Business
Most courses will only teach you how to do bookkeeping or how to start a business, but never both alongside each other in one course. You can literally start earning money from your new business within a few months and pay back the course costs.
This course provides a free 3-part introductory video class which explains more about bookkeeping and business which will help you decide if a bookkeeping business is right for you. 

There are no strings attached to claiming your spot on this free initial training to starting a bookkeeping business.
Even if you don't end up enrolling to the full course this free training will give you great insight into this type of business. 
How Does the full course help you live your dream life?
Whether you just want to stay tiny and have wiggle room in your family budget or want to build up a thriving mini empire - you can choose your outcome. 
With this course:
You learn how to gain clients without being "salesy". 


You discover how to provide valuable service to those clients so they are willing to pay top dollar.


You work where and when it suits you. Want to work after the kids have gone to bed? Want to work in the quiet space of a library in the afternoons? 


You earn enough profit to pay for family holidays or buy a new car or…. what's on your list?


You can study full time or part-time and run your business part-time if that's what works for you so it's great for stay at home parents, or for people in paid employment trying to break away from that to work for themselves – you study at your own pace and take on only the number of clients that you can manage with your time available.


You work virtually so are not bound by geography, meaning you can have clients from another part of the country – paperwork and details can be exchanged through emails and other online platforms.


You will be part of a fantastic, supportive and encouraging team and community so you are not on your own as you work through the change to becoming your own boss.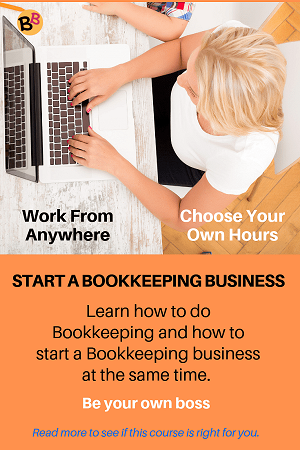 What Skills Do you need to have already?
You do not need any previous bookkeeping knowledge or business experience to do this course. 


You do not have to be a math genius! You just need basic math skills of adding, subtracting, multiplication and division and to work out percentages which you can do on a calculator because bookkeeping is mostly about sorting and categorizing financial transactions and Bookkeepers.Com will show you how to do that.


You do not have to take exams or be certified to be a bookkeeper running your own bookkeeping business.  However, Bookkeepers.Com will provide you with a Certificate of Completion.


You do not need to have advanced academic skills to do this course for starting your own bookkeeping business – basic education and your own interest and motivation are enough.


You do need to be happy working with numbers. If you hate numbers, this is not the right career for you.


You do need to be willing to work hard because this is not a get rich quick scheme and it's up to you to put in the hours of study and implement what you have learned to achieve results.


You do need to be approachable and caring (for your clients).


You do need to be ready to work with computers and with online (in the cloud) software.


You do need to bring a good attitude towards learning and be open to new and modern ideas.
With this course you will find out how to start earning money quickly whilst keeping your start-up costs right down.
brief overview of what you will learn from this Bookkeeping Course
Clients: Business Marketing and Setup

How to command premium rates
How to market your business and take advantage of Social Media platforms like LinkedIn and Facebook and setting up a client referral system.
How to find clients fast and how to choose the right kind of client (develop your niche market) – you don't have to be a bookkeeper to all businesses but choose certain types of business that you want to work with – (this will enable you to charge more for your services)
How to network, what to say and how to develop good client relationships
Tips to appear confident even if you're not!
How to set up your bookkeeping business legally including all the licensing and permits.
How to price your services
Learn about all the technology available to run your business and do your clients' books and have security integrity
How to provide a sterling service to your clients and present them with beautiful financial reports and give them hope for their futures
Setting up your website
And loads more.
Skills: 

Core Bookkeeping concepts
Business structures and client setups
Processing transactions
All about reports|statements: Balance Sheets, Income, Cash Flow
How to turn a client's messy books into neat organization 
How to explain the results to your clients
Your learning will be reinforced with quizzes, exercises, hands-on projects and a knowledge exam. Plus study hacks.
Systems and Resources:
Learn how to create the lifestyle you want and how to manage your business money 
You will have access to checklists and templates from the resource library, and stay updated on tools and apps.
Plus:
Access to a fantastic community 
Help and support through every step - you are never alone
Podcasts

..and more
Bonuses: There are extra bonuses which you will find out about in the free training videos.
Go here to download the course syllabus.
The course is always kept up to date, keeping in mind the technological advances that rapidly occur.
Are you ready to start your bookkeeping business? 
what are the Course costs?
PRO
One time payment:  
US$2,499 or
12 monthly investments:
US$249 per month

PREMIER
One time payment:  
US$2,999 or
12 monthly investments:
US$299 per month
TEAM
One time payment:
US$4,999 or
12 monthly investments:
US$499 per month
Guarantee No. 1: There is a 60-day 100% money back guarantee – if you decide in the first 60 days that this course is not for you, you will get a full refund if you ask for it.
Guarantee No. 2: If, within 12 months of joining Bookkeepers.Com and completing the full course and tasks, you haven't earned at least $5000 in revenue Ben will buy your business back from you.
If you are not ready to order now, you can instead sign up for the 3 free video classes to learn more from Ben to help you decided if this course is right for you.
Here is one of the very first successes from the earlier years:

"Feel the fear and do it anyway...
Check out how you can earn more money in bookkeeping.
Here are links to websites of some successful course students:
Remember, you will learn from this course, how to setup your very own website.
why this course?
This course on starting a bookkeeping business is detailed and thorough. There are demos, hands-on activities, videos and quizzes.
Ben wants you to succeed and his reputation rides on that so he has covered every aspect of bookkeeping and starting a bookkeeping business and running it, and has answered most questions you might think of to make sure you are prepared to do the job. Check out these success stories.
Not only that, but he helps you with growing, scaling, optimizing and transforming your business.
Ben's years of knowledge are based upon being the former owner and boss of his own Chartered Accountancy firm, and training his own bookkeeping staff as well as thousands of other people -  this has given him all the experience necessary to train you and to help you be successful.

Got questions? Ben has the answers. Go here and see the FAQ.
Do you want your dream life? Get going with starting a bookkeeping business through the Bookkeepers.Com program starting with the free training at Bookkeepers.Com. 

Ben Robinson
Ben Robinson is the co-founder of Bookkeepers.com and Director of the Digital Bookkeeper Association. He was previously a CPA who owned and sold two 7 figure bookkeeping businesses.
In 2019 the business was ranked #211 on the INC 500 Magazine list of fastest growing companies.
Click the blue box below to gain access to the free training and learn more about the full course.