Journal Entries for Income
Here is a business transaction:

In May, Smith Plumbers & Sons installed a new bath and sink in Mr and Mrs Ellison's house. The Ellisons paid $1,500.
Below is what the journal looks like.

There are several items of information that change with each and every journal:
The date - the date the payment was made.


The details - The two accounts that are affected in the bookkeeping system, in this case the bank account in to which the money was deposited, and the labour and parts account where the income is recorded and which pulls through to the profit and loss report.


The ref - The account numbers for each.


The debit and the credit columns - which should always equal the same.


A line describing the reason for the journal - in this case the sale to the Ellisons.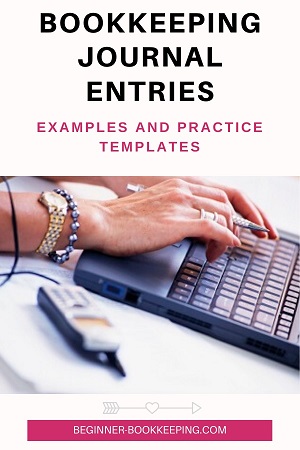 Practice

Entering Income Journals
Here is the excel template that you can type into right on your screen! 

In the white cells type the same information for this plumbing job and watch how the journal comes together.


Journal Entry Template Excel for Income
Journal Entries for Expenses
This journal is based on the following business transaction:-
In May, the business paid $350.00 to 101 Office Supplies for paper and ink for the printer.


As with the sales, there are specific items of information that change with every journal.
The headings 'Date, Details, Ref, Debit, Credit' and the 'Journal ID' remain the same.
Try this journal for yourself by typing directly into the white cells on the excel template below and make it match the image above.


Practice

Entering Expenses Journals
Journal Entry Template Excel for Expenses

Basic Accounting Journal Entries
You can download and/or print this list of business transactions and practice entering them into the excel templates above.
The accounts to use are in red.
You need to make sure you enter the sales transactions into the income template.
Enter the purchases transactions into the expenses template.
Or just hand-write them out using this lined journal paper template.
The journal entry examples are here.
The description line is slightly different on the examples.
They say 'payment to' instead of 'purchase from' as per excel template above but it is fine to use these different phrases which mean the same thing.


If you would prefer to use the excel journals for practicing on your computer instead of online - you can download them by clicking on the download buttons below. This will only allow you to enter one journal at a time. It does not generate into a report listing all the journals you enter.
Expense Journals Practice Download
Income Journals Practice Download