Delivery Docket Advantages
For the seller:
The docket can be used to check the items against the customer's order

The warehouse can prepare one without worrying about putting in the prices as this will be done by the accounts office when they prepare the sales invoice

It can be useful for quickly getting the items out, giving the bookkeeper time to check on prices/queries, if necessary

The docket can go with the shipment, whilst the sales invoice can be emailed to the customer.
For the buyer:
The department receiving in the goods can use it to double check the goods have all been received according to what was originally ordered

The docket is the source document for updating the inventory records

Once checked and authorized the docket can be given to the accounts department who will then know to expect an invoice from the seller.
See the completed example of this delivery docket template below, which shows you how to fill it in.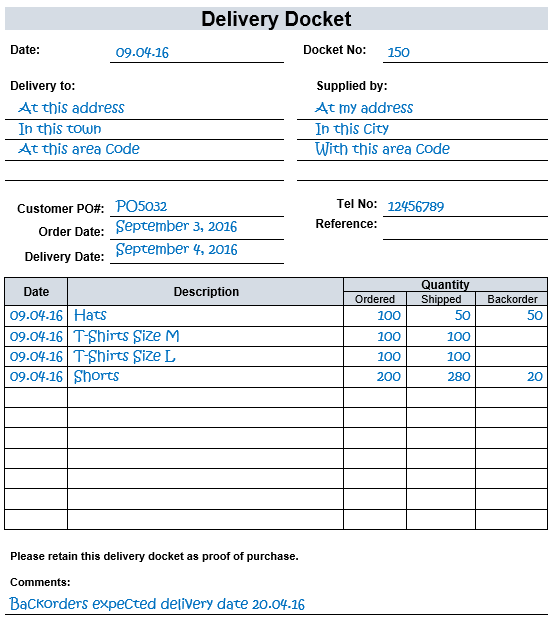 Details
The following information should be found on this document:-
Click on this image below to download the Blank PDF Template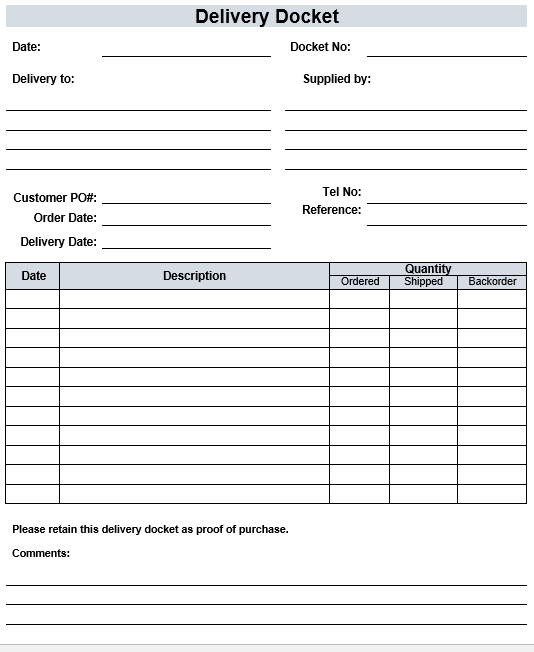 Handling this Document

By the Seller
The docket should be placed inside the envelope or box at the top where it can be easily retrieved.
Another way is to place it inside a plastic sheath for protection which is then taped onto the outside of the shipment envelope or box.

By the Buyer
The accounts department should keep it in a folder where it can be matched up to the purchase invoice once received. It can be attached to the back of the invoice, or filed away into a separate folder in alphabetical order.
Delivery dockets are not always necessary because a sales invoice can also be used as a delivery docket, thus avoiding having to use a delivery docket template.
Home > Bookkeeping Basics > Delivery Docket Template