Bank Reconciliation Statements
Learn everything you need to know about bank reconciliation statements for a business - how to do them and how often. Here you will see a sample and have access to a free, printable template. This information can also be used to balance your personal bank accounts.


What are Bank Reconciliation Statements?
Any business that is receiving and spending money will use banking and bank reconciliation procedures.
The bank will regularly send the business a bank statement which lists in date order the money that has gone in and out of the bank account.
In the meantime, the business' bookkeeper will have entered these withdrawals and deposits into the business cash book.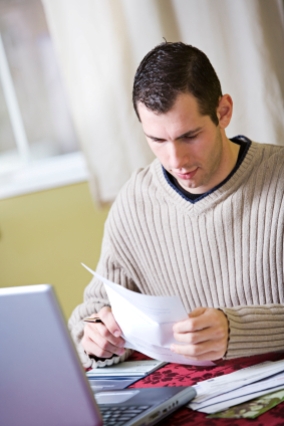 Why Do Bank Reconciliation Statements
Need to Be Done
Bank reconciliations verify that the funds going
in and out the cash book agree with the funds
going in and out the bank account.

If the closing balance of the cash book does not match the closing balance of the bank statement, the cash book will need to be adjusted or amended.

The reconciliation helps the bookkeeper to find what is causing the difference and make the necessary adjustments.
Of course, there may be an error on the bank statement rather than the cash book, however, in my experience banks very rarely make these errors. I'm not saying they don't happen, but it is rare!
If you live in a country where you have to collect and pay sales tax, bank reconciliation statements will help you find any entries you may have doubled up on in the cash book – you don't want to pay sales tax unnecessarily.
Your tax accountant will want to check the accuracy of your cash book by viewing your final bank statement and reconciliation statement for the end of the year.

An accurate cash book plays a big part in ensuring the correct tax is paid to the government.
How Often Should Bank Reconciliation
Statements Be Done?
Bank reconciliation statements are generally completed once a month.
However, if your business is very busy with a large number of transactions you could ask your bank for an extra statement mid-month, or even weekly.
That way you can easily stay on top of the reconciliations and avoid feeling rushed or stressed once a month.
If you have access to internet banking you do not have to wait for the bank to send you a statement. Simply print a transaction listing for the dates you require. Ensure there is an opening balance and a closing balance because these are required to complete an accurate reconciliation.

There are no "rules" about how often to do a bank reconciliation statements. You can do it daily if you wish. Then again, you could do it six monthly but only if you have very few business transactions.
Also important to note is that you should never reconcile a bank statement to today's date, because today is not yet over and your closing balance might change by the end of the day. The most up-to-date you can make a reconciliation is to yesterday's date (meaning up to the day before you prepare a reconciliation).
How To Do Bank Reconciliation Statements
Options on where to do it:
Enter a reconciliation summary underneath the relevant month in the cash book, or
Prepare a bank reconciliation form, or
Invest in bookkeeping software that has reconciliation capabilities.

If you are keeping a manual cash book you need to check off each cash book entry against each bank statement entry.

You can put a small tick on the bank statement next to the entry and put a tick or an 'R' for reconciled in the cash book next to the relevant entry. If there are extra entries in the cash book that do not show up on the bank statement, or vice versa, you need to highlight or circle them so that you can adjust the cash book once you find out what they are. They might be:-
Outstanding cheques/withdrawals* - these are cheques that your business has entered into the cash book and sent to vendors but which did not show up at the bank by the closing date of your bank statement.
Outstanding deposits/receipts** - these are payments that you have received into the cash book, but which were not deposited to your bank before the bank statement closing date.
Bank Fees and Interest - these are charges that you would normally only know about after receiving your bank statement. You will need to enter these into the cash book.
Other Unidentified Entries - if there are any other entries missing from either document then you will need to investigate how they got there and make the necessary adjustments.

* Outstanding cheques/withdrawals will be added to the reconciliation
** Outstanding deposits/receipts will be deducted from the reconciliation

If the bank account is in overdraft, then do it the other way around.


Reconciliation in the Cash Book
See the example of this reconciliation underneath the cash book spreadsheet.

Bank Reconciliation Form
If you don't want to enter the reconciliation into the cash book, you can use a form instead. Click here to download a template. See below for a completed example of this template.




Bookkeeping Software Reconciliation

Bookkeeping software that has reconciliation capabilities makes the whole process quick and easy.

All you need to do is click on the reconciliation section of the software, run your eyes down the bank statement, check off each entry in the software's reconciliation section, add in the extra entries, press a button...

...and voila! you should have an automated bank reconciliation statement that you can print out and place into your filing system.
Below is a simple bank reconciliation example based
upon this cash book spreadsheet.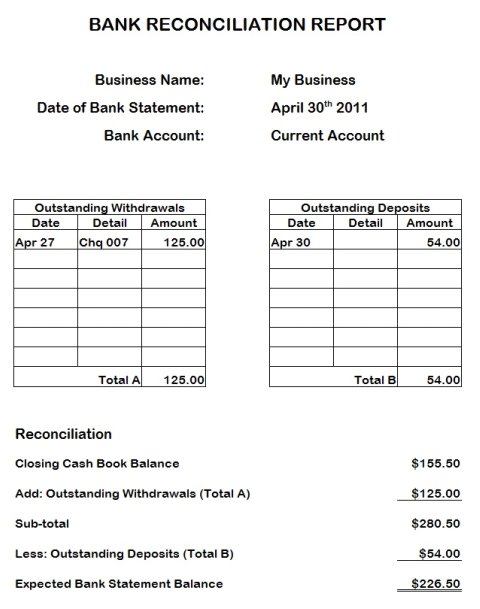 If you have any questions or comments feel free to contact me.
You can go here to view some questions that have already been answered.
You are here:
Back to Top: Bank Reconciliation Statements