3. Ledger
"Although the program is very easy to download and use by students it is by no means just a learning tool. It is being used seriously by hundreds of clubs, trusts, and businesses of all sizes around the world to maintain their general ledger accounts". LedgerLite

The second bookkeeping software free downloads is LedgerLite, by Responsive Software.

**Update** - Ledger has now changed to LedgerLite. You can still download the software immediately, and use it as an unregistered user for 30 days, and then pay a $50 one-time fee, no more charges after that, the on-going cost is free.
This program is fantastic for learning double-entry bookkeeping because you have to manually enter both sides of each entry. 
It is a very good, simple and unique program for small businesses and for students wanting to practice entering debits and credits. You can upgrade to LedgerPlus for invoicing, stock control, customer accounts.
What you get with LedgerLite
A cashbook: where you enter the transactions off your bank statement.


Chart of Accounts: that you can change to suit your business.


Entries: a second way you can enter transactions showing on your bank statement, or for journaling entries from one account to another if you have made a mistake.


A ledger: that lays out the detail of each account that you have made entries to


Income statement report: showing if the business has made a profit or a loss


Balance sheet: showing the worth of the business.


Cashflow statement: showing the flow of cash in and out of the business


Online help and support


The option to unlock, for a small fee, some of the locked features such as a ledger listing, trial balance and other. A new, small business can get by without these options – it is not necessary to unlock them.


The option to upgrade, for a price, to LedgerPlus which has everything a business can use from sales invoicing, accounts receivable and payable, stock control, asset schedule, depreciation etc.
To access the Ledger download click on the graphic below. The homepage is now slightly different to what you see below.
Once you have clicked/tapped on it you will be taken there.
You will see the download icon on their home page – just click on it to install the software to your computer's hard drive.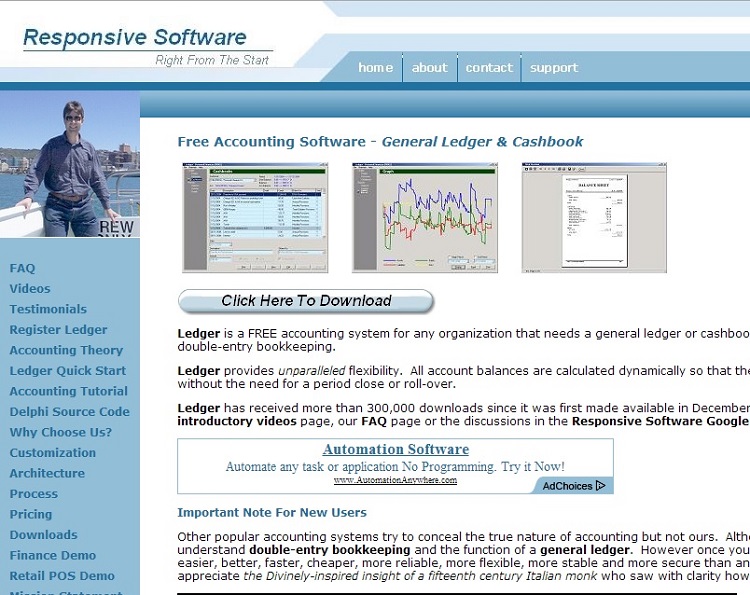 Once you are ready to use Ledger click on their 'Help' then 'Quickstart' buttons which will guide you through starting your set of books.